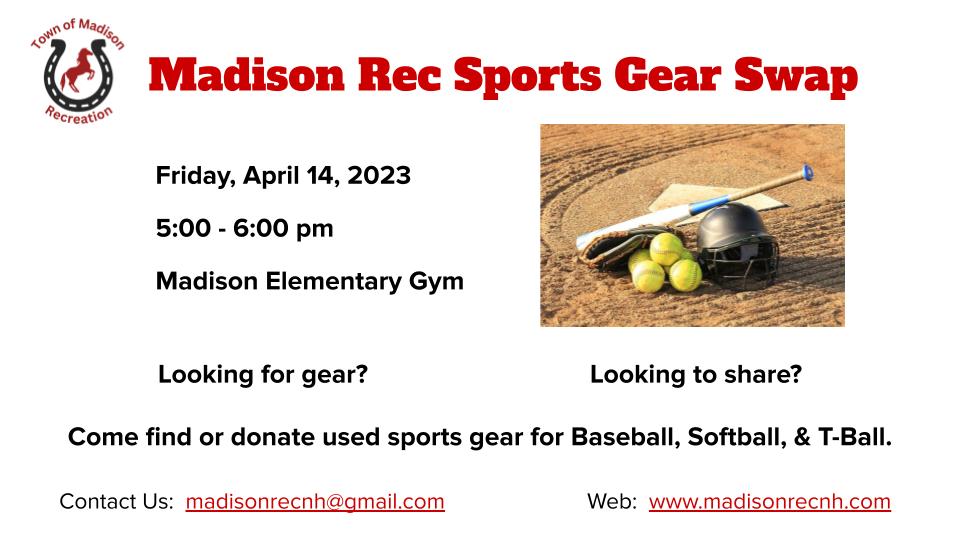 Sports Gear Swap THIS FRIDAY!
April 14th, 2023
5pm – 6pm
Madison Elementary School Gym
We are holding a lightly-used sports gear swap! Looking for new gear? Have some gear to trade?
With spring sports officially in full SWING – we know that there are lots of families digging through last year's gear, and finding that those new cleats you just purchased for last season, are already too small! Come trade out your gently used:
Cleats
Helmets
Baseball Bats
Softball Bats
T-ball Bats
Gloves
Lacrosse Sticks
Goalie Gear
Catcher's Gear
Please join us and bring your equipment that you'd like to donate. And then take a look around and see if you can grab something that will fit your kiddo for the 2023 season!
Doing some spring cleaning out your garage, attic or basement? Did you find some equipment you are no longer using? If you would like to strictly donate to the sports gear swap, please contact us, so that we can coordinate picking up your generous donations before our event! Thank you in advance!
We hope to see you there!